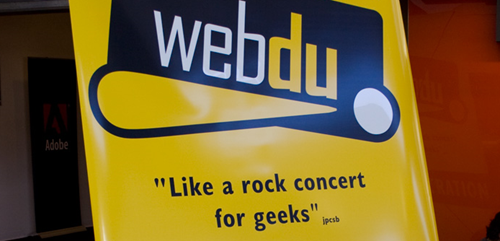 Geoff and the Daemon team have a couple of economy-stimulating initiatives that might be of interest to anyone who would like to come to the WebDU geek rock concert conference next month.
From today's email:
Whether it be economic or pandemic, zombie invasion or bikie warfare,
escape it all at webDU in the Star City Casino where the doors can be
barricaded and there's a few weeks supply of water and food.
Sounds good, yeah?
If you've been negatively affected by the economic downturn, there's a scholarship program you can apply for. http://www.webdu.com.au/about/scholarships
If you want to win a ticket, there's a Twitter competition on too. The guys are giving away five tickets for the most creative reasons to want to go. http://www.webdu.com.au/about/twitter-competition
There's heaps of flight deals at the moment too, on Virgin Blue, QANTAS and JetStar, so you can get over there pretty cheaply from anywhere in Australia or the surrounding regions.
I'm going to be going, and I'm pretty stoked – I'm a conference junkie and it's going to be great. I'll also be reporting on all the action for SitePoint.
Code Wars will be running on Day 0 as well, as has now become traditional, and I'm going to be part of the WANZAC team (West Australian/New Zealand Awesome Coders) with AJ Mercer, Kai Koenig and Campbell Anderson.
So who else?