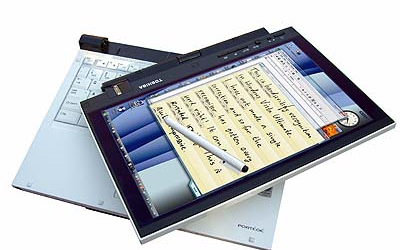 A bit of background: I'm a big fan of the Tablet PC. I had a beautiful Acer C110 machine way that I got back in about 2003 which I used for a very long time. I loved that little thing – it's still mostly working although the screen isn't pressure sensitive in slate mode anymore and it's painfully painfully slow.
I then got a lease on an "upgrade" – a Fujitsu P1610. This was even smaller – it has a 9.8" screen – and so very cute. I thought it was going to be all love and happiness again until I twigged that something wasn't quite right about the screen. Although it was pen sensitive and, once I upgraded to Vista, actually responded to your finger as well, it was not pressure sensitive so handwriting notes etc was really out of the question. I hadn't realised what an important factor that was on my previous Tablet. I started to use the Fujitsu in a different way – always with the keyboard out, but jabbing at it with the pen or my finger in addition for a kind of hybrid tablet experience.
I got kinda used to that but as soon as I saw someone using a pressure sensitive Tablet PC – I think it was Donna Maurer's Toshiba – I realised that I really missed being able to scrawl and scribble when I was taking notes or whatever. Also, the tiny screen was really screwing with my ability to read web sites – I was constantly holding the stupid thing up to my nose. However, with the lease not up on the Fujitsu until February 2010 I figured I'd have to just suck it up. I picked up a hell-cheapo 15" Compaq notebook to use around the house when not at my desktop as a compromise for the screen size problem.
But then… on Friday Dave sent me a link, as he often does… to the Toshiba R400 product page – a 12" convertible Tablet PC. Looking at the $4500 AUD price tag, I was just shooting back to him "why are you torturing me?" when he said that because it was an end of life model, a dealer in the Eastern States had them on sale for $1500.
OMG.
To cut a long story short, one is winging it's way to me next week (end of financial year tax bonuses, I love you). There's a review of them here http://www.ruggedpcreview.com/3_notebooks_toshiba_r400.html and it sounds like it could be another love affair (double and triple checked and yes it DOES have a Wacom-produced pressure sensitive screen). I may post a full review when it arrives and I have finished drooling on it.