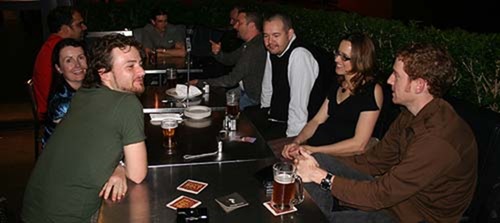 Perth has a long and well-established "Port80" tradition that is by now known around the country (well, in the web industry anyway). The monthly informal pub get-togethers, which have been going since 2002, have been the birthplace of great ideas like the Australian Web Industry Association and the WA Web Awards, to name but two.
In the past couple of years, other cities have followed suit. There is a "most months" Melbourne meeting, piggybacked on the Web Standards Group get-together, a monthly Brisbane meeting and a bi-monthly Canberra meeting. Adelaide is joining the loop soon.
During Web Directions 2006, the Perth crew held a Sydney get-together under the Port80 banner at the Pumphouse in Darling Harbour, in the hopes of kick-starting something more regular in NSW. That didn't eventuate, so we're doing it again, but bigger and better!
The official blurb, if you will:
On the eve of Web Directions South 2007, come along for a warm up social networking session with your industry peers. It's free to drop in, there'll be some free nibbles and rumours of a bar tab (if we can find a sponsor!).
There'll be a gang of folk from Port 80 Perth, folks from Adelaide, Canberra and Brisbane, and possibly even some Sydney locals. Lots of attendees to the conference, and a few speakers will also be there.
It's all kicks off at 6.00pm, September 26th 2007
Quarryman's Hotel
216 Harris St
(Cnr. Pyrmont Bridge)
Pyrmont NSW 2009
For a map to the venue, see http://rurl.org/892
This venue is literally stumbling distance from the WDS07 venue, so here's a chance to scope out where you'll be for two days, and get to drink and meet your peers.
If you've got any questions, feel free to hit the Port80 forums at http://rurl.org/7lk
For more information about Port80, see www.port80.asn.au or more about the Australian Web Industry Association at www.webindustry.asn.au