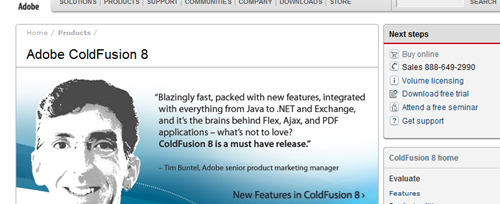 The big announcement today: ColdFusion 8 has been released!
To celebrate, the ColdFusion User Group of WA is holding a trade-show style launch event. We'll be watching a special presentation by ColdFusion guru Ben Forta and listening to some local developers explain which new features they're excited about. There's be food and drinks provided, and opportunities for networking. Adobe has even provided a copy of ColdFusion 8 which will be given away on the night.
As well as existing ColdFusion developers, we'd like to invite along others who may be interested in seeing what ColdFusion has to offer. So if you believed the articles that said it was dead, are curious as to what it's all about, or are wondering if it's good solution for your organisation, you're more than welcome to come along.
RSVP your intention to come along at the CFUGWA web site.