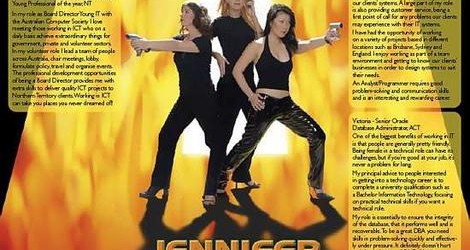 Truth time: I really just always wanted to use the word "brouhaha" in a post title. Cross item 487 off life's todo list.
The IT Screen Goddess calendar, oh the controversy, and the proper web site hasn't even launched! The Australian IT got an article in already, apparently there was a phone poll on yesterday morning's Sunrise show, and of course bloggers have started talking about it already.
I wrote a post about my views on the glamour calendar topic yesterday (I am helping out with the web site) and that post is getting some comments, but it was only yesterday arvo as I was walking through Leederville to get to a meeting that I realised what my real issue was. I like being a geek. I don't have a problem with the stereotype. I don't think it's negative (maybe the stereotype I'm thinking of isn't the one other people think of) – geeks are smart people, and smart is sexy. So it kind of irks me to acknowledge that other people think there's something wrong with that, and that movie star glamour is somehow better.
At any rate, I haven't seen the full calendar and I do want to see what all the fuss is about for myself. And anything that promotes discussion of women and careers in IT and the web is A Good Thing. Bring it on!