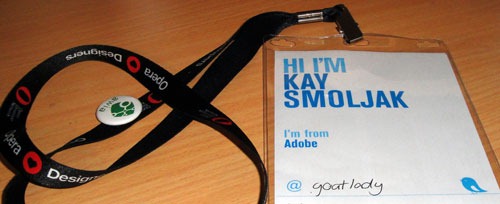 Last week I went to Web Directions South in Sydney – a conference that I have been to, every year, since it was Web Essentials in 2005. This year, however, was a bit different: I was at the conference to help Adobe on their expo stand. Dave said I was the ColdFusion Booth Babe. Minus the bikini, of course…
Some people were surprised to see me there – one person even asked (beforehand) if I thought that it might harm my credibility. But in actual fact, I wasn't intending to go this year, and the idea of promoting the just-released ColdFusion 9 and the soon-to-be-released ColdFusion Builder to general web developers was a pretty interesting prospect. I was also pretty happy to be there with all my Perth peeps for the general shenanigans that traditionally goes on at Web Directions – the social aspect is what keeps us all coming back, year after year.
Adobe's booth was not in a great area, once again – down the corridor in front of the entrance to the two smaller speaker rooms. There's just not as many people who came down there. On the plus side it was a lot quieter than in the main expo area, so it was easier to talk to the people who did come along – but I think that we could have spoken to a lot more people in the main area.
On the first day, I wore my "ColdFusion pixel dude with beer throwing horns" t-shirt and was all prepared to show off some of the new features – but mostly what people wanted to know about was yesterday's announcement from the MAX conference in Las Vegas that Flash CS5 would be able to export to an iPhone native format (the only thing we could do was send people to the Labs page so they can sign up for the beta coming later this year). I showed a handful of people how easy CF made it to do things like editable grids, Google maps, and rich text editors, and also talked quite a bit about the ORM stuff. And showed off ColdFusion Builder a little, even though I'm not using it on a day-to-day basis.
The second day Andrew Muller joined Andrew Larkin and myself to do some Flex and Flash Catalyst demos – much sexier looking stuff, from a demonstration point of view – and while he got a few interested peeps the quietness of the area really played against us. Almost everyone who wanted to see something to do with ColdFusion had done it the first day, however, so I was pretty quiet.
Overall I think there was value in being there – so many web developers are simply not aware that ColdFusion is out there and that there are people still using it – but there would have been even more value if Adobe's stand was in the main expo area. And maybe if there were a couple of ColdFusion posters and what not.
Perhaps things can be better for Edge of the Web?