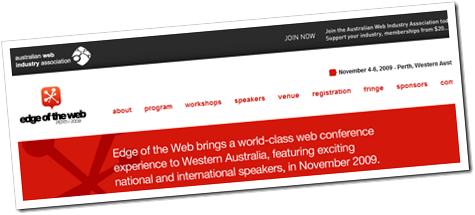 Last year AWIA ran the inaugural Edge of the Web conference, a one day affair in November. It was a huge success and so this year we're doing it all again, this time in a two day format, from 4–5 November 2009. Once more EOTW will be held at the UWA Club at the University of Western Australia, Perth.
The full speaker line up has been released and it looks awesome. Blogging pioneer Anil Dash, community design dude Derek Powazek and Alex Payne — from Twitter, no less — are our international guests, and we have a great line up of national and local speakers too. You can see the full program here.
Notable for the Adobe geeks is the addition of Justin Mclean, who will be talking about web-enabling hardware.
There's also a day of workshops on Friday 6 November, where you can spend half a day with Alex Payne or Derek Powazek in the morning, and with Lachlan Hardy or Dmitry Baranovskiy in the afternoon – or if search engine optimisation is more your thing, you can spend a full day with Scott and Cheryl Gledhill exploring the topic. Friday the 6th is also the Australian Web Awards presentation night, a crazy black tie dinner done only the way the web industry can.
Oh, and did I mention fringe events? There's a ton of those too…
So if you've been living under a rock and haven't heard any of this, I can also tell you that the early bird pricing ends on September 30, which does not leave very long. So hop to it!