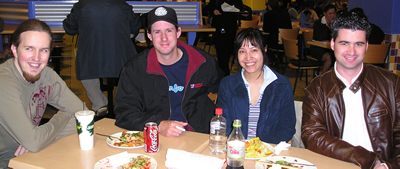 On Monday, Dave, Ben, Simon and I met up with Ian and Manda, of accessify.com fame, for lunch in the city. Ian and Manda are on a 'round the world' trip, and Perth is the last bit of the Aussie leg.
It was a lot of fun, and for anyone who isn't aware, they are really nice people! We had a bit of a chat about being a standards nazi, php, seo and controversy, but mostly about the great Aussie obsession with the automobile.
Ian and Manda, thanks for seeking us out and good luck on the rest of your trip – and don't forget to visit Sim Lim Square while you're in Singapore!